Interior designers and homeowners alike come to us seeking unique pieces to enhance their décor. We see our antiques used in many different ways to embellish the final details of a design scheme. Accessories bring an interior to life. Once you paint, place the furniture, and hang the draperies, it is the accessories that bring out the look you are going for. From copper cookware and decorative boxes, to lap desks and mantle clocks, the wide range of indoor accessories offer unlimited opportunities to bring personality and creativity to your home.
The following are just a few examples of the types of lovely antique indoor accessories we have at Beauchamp Antiques:
Antique Apprentice Pieces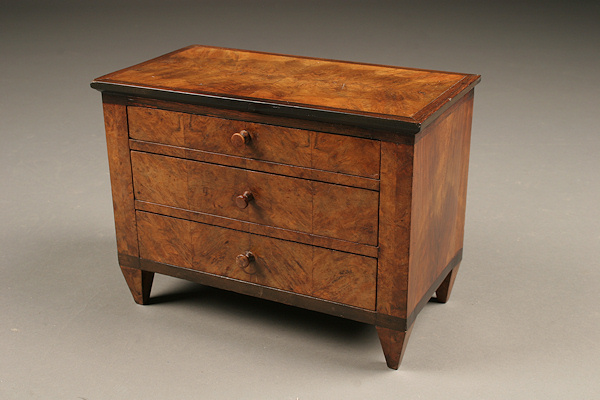 Many customers will ask if these small pieces once served as traveling salesman tools. The real story behind these pieces is even better than that scenario. During the apprenticeship portion of a European cabinetmaker's path toward becoming a master cabinet maker, he would have to complete a "term paper" to prove his skills. This final project took the form of a miniature version of the items he would be making as a fully educated craftsman, as these men did not have the money to build a full-sized piece. Needless to say, the craftsmanship that went into these antiques is exquisite! Once this "final exam" had been graded, the cabinetmaker would then sell the piece, which could serve different uses depending upon its size. Today's collector uses them in similar ways, such as for decorative elements or jewelry boxes.
Antique Sculptures and Bronzes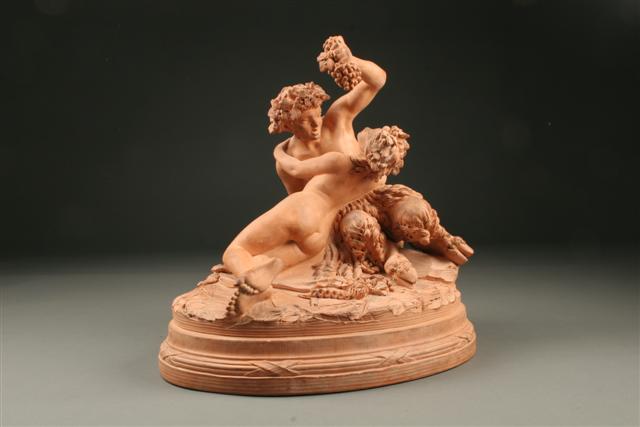 Typically we think of a sculptor as someone who works in clay or stone – creating an end product from a piece of raw material. However, many antique sculptures are the result of a molding process, where the intended result was a cast bronze sculpture. Our collection of sculptures and bronzes reflect both of these ideas. For example, the terra cotta piece of "Pan & Maiden" shown above was sculpted to create a mold to cast a bronze statue.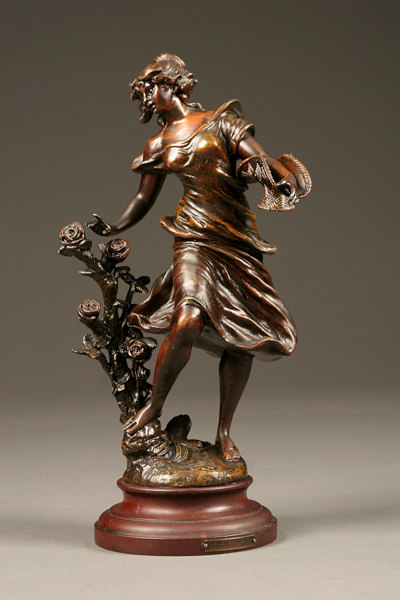 Then we also have bronze cast pieces, like this lovely "Woman Gathering Flowers".
Regardless of the intended result, sculptures and bronzes are a great way to bring unique shapes and different materials into a space. We have seen them used on fireplace mantles and bookshelves, as well as on pedestals where the sculpture is the highlight of the room. We have a full range of busts and full-body human and animal figures to choose from, ranging from romantic scenes to soldiers and athletes, to mother and child or mythical Greek and Roman characters.
Lamps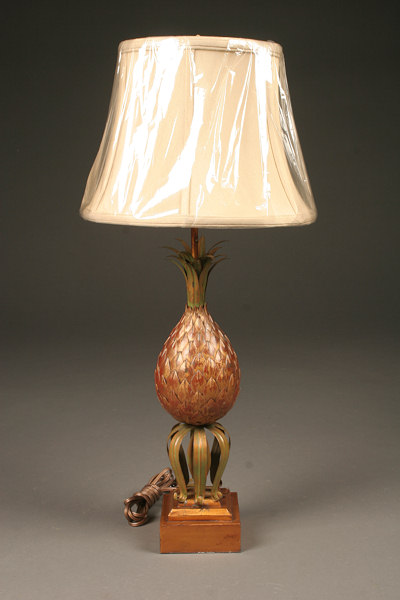 Because electricity in the home did not become popular until the early 20th century, many antique lamps began their lives as something else. Candelabra, carved statues, and anything else that could be wired would become a lamp. This opportunity for creativity means that antique lamps come in many shapes and sizes, from full-length floor pieces to petite table varieties. As we noted in our Antique Lighting: Jewelry for Your Home article, antique lamps can be of higher quality and greater affordability than new pieces. Every lamp that comes through our shop is rewired for current safety standards. Remember, every time you turn on a lamp, your eye is immediately drawn to it! Why not invest in something beautiful and interesting if it is going to be a focal point in your space?
Lap Desks
The 18th and 19th century version of a laptop, these pieces were used as writing surfaces and storage for writing implements. They often had writing slopes and spaces for quills and inkwells, as well as hidden compartments for documents or other valuables. Most lap desks are made out of wood, but their decoration can be quite varied. We have seen exotic veneers, ivory, bronze, silver, mother-of-pearl, and leather inlays – embellished in many different ways and in lots of different styles. Today, people still use them as writing desks or as pretty accessories, though we often craft stands for our larger pieces so they can serve as side tables.
Special Boxes

The large variety of antique boxes available comes from the many items that needed to be stored in the 18th and 19th century. Tea caddies, jewelry boxes, travel cases, sewing boxes, candle boxes – the uses were endless. We have a large collection of these fun pieces because they tended to last, as people did not sit on them, eat at them, store clothing in them, etc. Because they served as storage for delicates, valuables, special food items, tea, small collections and/or jewelry, they were gently used. Embellishment options vary greatly, and can be as simple as wood with brass elements to exotic inlays.
This tortoise shell tea caddy is a lovely example of a well-adorned box.
Insides can be quite ornate as well, as we see in the box pictured below, where we find jewelry-grade accessories like mother-of-pearl buttonhooks, tiny engraved scissors, silver lids, and mother of pearl handles. There is a lot of romance in these boxes. They are quite unique and people love to collect them. Today, they are often used for decorative purposes only, though we do see jewelry boxes still functioning in their same capacity.
Congac Casks
Popular today as wine cellar or bar décor, cognac casks were originally used in the 19th century for the storage and transport of cognac and other fine liquors. They come in different sizes depending upon their intended use. The larger pieces were found in public settings, perhaps at a dealer or distiller's shop, or even in a pub or restaurant. The smaller sizes were geared for home use or travel. We also have impressive wine corkers if you are looking to add other unique accessories to your wine collection.
Whether you are trying to build a collection of pieces from a single region or era, or want to bring an eclectic look to your space, our selection of antique indoor accessories will give you plenty of options. Feel free to stop by our showroom, or check out our full inventory on our website.